Inviting other parents to organize and manage a signup
If you would like to invite another parent to help you organize and manage a signup:

Go to your event.

Click on the manage button.

Click on invite additional organizers.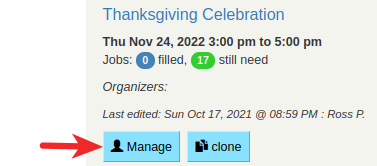 Related Articles

How do I cancel my signup?

To cancel your signup, log in to HelpAtSchools and click Manage my Sign Ups: Then, click Cancel my signup for the desired job:

How do I add a question to a signup?

How to add a question to a signup Sometimes it's useful to have volunteers answer a question when they sign up to volunteer. For example, you might ask what food item volunteers are planning to bring to a school potluck. To add a question, click on ...

How do I change my response to signup questions?

Some signups ask you to answer a question when you signup. For example "What food will you bring?". If you'd like to change your response after you've already signed up, just log in to HelpAtSchools and go to my signups: Then, find the signup and ...

How to add or remove PTO/PTA parent admin accounts

Parents at a school can be granted special administrative permissions on HelpAtSchools that allow them to: Manage ANY volunteer signup at the school. View directory opt-in statistics and download directory data. View and search historical volunteer ...

How do I manually assign a parent to a volunteer job?

Most of the time parents will sign themselves up for volunteer jobs by clicking the sign-up button for the job they would like to fill. However, in some situations (for example if a parent calls you over the phone), it's useful to be able to ...